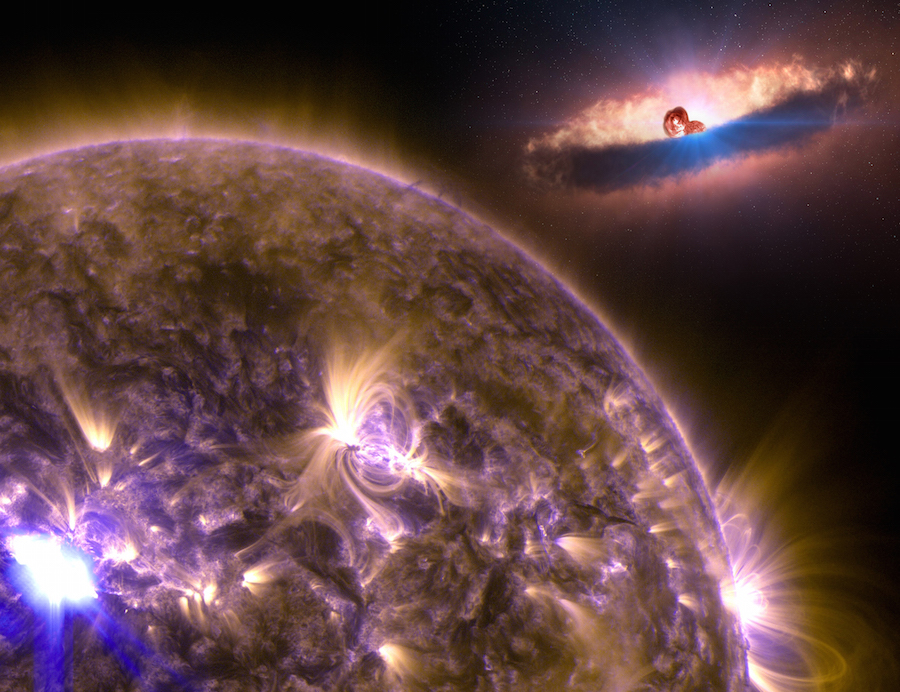 February 15, 2017
CU Boulder, Space Sciences Building (SPSC), room W120, 1-5pm
Workshop Announcement: Solar-Stellar Connections will be a half-day workshop aiming to bring together solar and stellar researchers in the Boulder area to meet, share research, and forge collaborations. Motivated by the near-complete transition of NSO headquarters to Boulder, Solar-Stellar Connections will feature introductory talks, posters, and discussion time. Our scientific focus will be the shared interest of studying stars and their astrospheres, our own and those afar.
The format for the workshop is modeled after a large group meeting and is open to all: students, postdocs, faculty, research scientists. We encourage attendees to give talks introducing themselves, their work, and even putting out calls for collaborative help on specific projects. We also encourage bringing posters from recent meetings as there will be ample discussion breaks for meeting and talking.
There is no registration fee, but to give the organizers an idea of attendance, please RSVP via this google form and indicate if you would like to give a talk and/or poster; our time allocations for talks will be determined by attendance. This google form is editable after the fact; titles are not required to register.
A full program can be downloaded here.
Present--and growing!--list of topics that will be presented and discussed:

MinXSS CubeSat results -- Caspi, poster
Stellar cycle periods -- Brandenburg, talk
Soft X-ray spectroscopy -- Caspi, talk
A brief historical perspective on the solar-stellar connection -- Aarnio, poster
Estimating stellar CME rates to better understand early star-planet interaction -- Aarnio, talk
The first simulated image of a star with saturated magnetic activity -- Kowalski, talk
Asteroseismology and Stellar Activity Cycles -- Metcalfe, talk
Did Coronal Mass Ejections Contribute to the Young Sun's Mass Loss? -- Cranmer, talk
The Solar Dynamo Zoo -- Egeland, poster
A chromospheric flare model consisting of two dynamical layers: critical tests from IRIS data of solar flares -- Kowalski, poster
Using Helioseismology to Probe Torque Balance in the Near Surface Shear Layer of the Sun -- Matilsky, talk
Alpha Centauri at a Crossroads -- Ayres, talk
A chromospheric flare model consisting of two dynamical layers: critical tests from IRIS data of solar flares -- Kowalski, poster
Asteroseismic surface effect from 3D convection simulations -- Trampedach, talk
The Energy Budget of FUV Transition Region Emission from "Typical" M Dwarfs Is Probably Dominated by Flares -- Loyd, poster
Is the Solar Cycle Rare? -- Egeland, talk
Rotation and magnetic activity of Kepler targets -- Mathur, talk
Linking Solar to Stellar Variability -- Criscuoli, talk
Chromospheric spectral line widths: solar understanding and application to stellar proxies -- Reardon, talk
Massive-star Magnetospheres -- Owocki, talk
Organizers: Alicia Aarnio (LASP/NSO) and Adam Kowalski (CU/NSO).
Email: alicia . aarnio at colorado . edu and adam . f . kowalski at colorado . edu (remove spaces).
---